Good morning! Just wanted to share another quick card! I used "
Just Jawing
" SU item no. 111660 for this card,as I was using it I realized the cherries can be used to make some darling tags and also card embellishments, etc... The little bow and flower too! I bought this set for Emily for Christmas, I'm glad we have a rule that her stamps stay stored in the craft room so I can use it some more. :) Anyway, I thought it was kinda fun and way different than anything else I ever use for making cards. I need to find a box full of my supplies that were misplaced during our remodel... I was thinking of some more "bling" that I could have used with this set...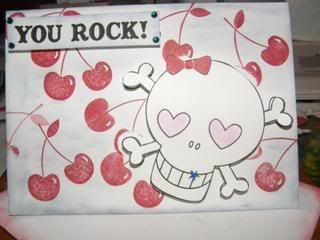 It's time for me to finish my touch up painting in the kitchen and family room and get ready for the cleaning lady to come. I so cannot afford her right now, but you have no idea how much it helps me out. This will be the second time she has been here, I just can't wait to get home to my clean house tomorrow afternoon! :D Have a great day everyone!